A Yoga Class to Balance Every Mood
Posted by Sinead Duffy on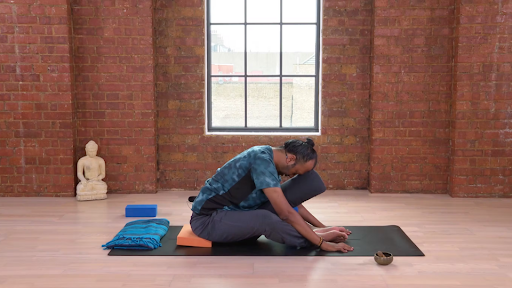 Many of us have the same routines and habits year round, and even year in year out. In general, our culture doesn't talk about the importance of changing things up according to the seasons, and the seasons of our lives. But in springtime, nature acts very differently to how it acts in Autumn. And similarly, our bodies react very differently depending on the time of year, time of day, and life experiences.  Because of this, even if we were to repeat the same yoga poses day to day, they are unlikely to look or feel the same.
This is just one reason the unchanging routine of a traditional yoga practice feels a little outdated to me. Movement for Modern Life is about learning to listen to our own unique bodies and to feel empowered to make choices about what we need every time we come back to the yoga mat. 
How would it feel to pick a yoga class based on the mood you were in? For me it has been revolutionary! Rather than pushing through a power vinyasa class when I'm exhausted from a busy week, I opt for a nourishing Yoga Nidra instead. Or just because it's late in the evening doesn't mean I always choose a restorative bedtime practice, sometimes I have tons of energy and it feels great to release it in a strength based Barre class.
The real question is: how do we choose the best yoga class to suit our mood? 
Most importantly we need to practice listening to our body. This was the first, simplest but most challenging step for me! Learn to tune into your body, your energy and your mood, and ask yourself how you're feeling. 
This is the best guide for knowing what yoga class to choose when, and as a result your yoga and movement can work with your natural cycles and rhythm to either complement or balance your mood. 
Here are five yoga styles we recommend to complement whatever mood you're in: 
Low energy or feeling drained
MFML recommendation: Restorative Yoga
Feeling low on energy and a little tired? Sometimes when you feel like this it can be tempting to just put on your pyjamas, get into bed, and leave your yoga practice until the morning. Whilst this is totally fine, Restorative yoga is a great option when you feel physically or energetically tired. 
Why Restorative Yoga? 
It can be done in your pyjamas

It could even be done from bed! 

It is long deep holds, where you are supported by the props, meaning your body can deeply let go. 

Calms the nervous system and promotes deep relaxation
RY: Breathe Deep and Restore with Dirish 
Energised and uplifted 
MFML recommendation: Power Yoga or Barre
Feeling energised? Full of beans, you're bouncing around and have lots of energy to expend? This is a great moment to turn up the music and move. When the energy is there I just love to move, shake and play with it! 
When I feel like this I often turn to a good old power vinyasa. 
Why? 
It has a good dose of strength work 

Moving with the breath can build up a fast pace and get the heart rate up

Chaturanga chaturanga! 
TRY:  Energising Vinyasa Flow with Katarina Rayburn 
We also recommend trying a Barre class. These classes are great with music as you move on a beat. 
Why Barre?
Low impact (great for all levels) 

High intensity 

Includes cardio and gets the heart rate up 

Definite endorphin boost!
TRY: Barre Workout: Cultivate Strength with Vanessa
Anxiety or frustration
MFML recommendation: Qigong 
Maybe you feel all pent up and frustrated? It could have been from a conversation at work, or a difficult moment with a friend or partner at home. Or maybe there are underlying feelings of anxiety and you can't pinpoint what they have come from. There is plenty going on out there in the world right now that could be pushing us into anxious and over stimulated places. 
When feelings like this are there it can sometimes feel hard to move and definitely difficult to focus and slow down. For moments like this I recommend a Qigong class. 
Why Qigong? 
Connects you to slow mindful movement 

Connect to the body and out the mind

Rebalances energy flow through the body 
TRY: Qigong for Anxiety with Mimi Kuo Deemer 
Overwhelm
MFML recommendation: Yoga nidra
When we feel overwhelmed it can feel overwhelming to choose and set yourself up for a yoga practice. Often what we need is to slow things right down and give ourselves full permission to rest. 
Yoga Nidra gives you a chance to do exactly that, and I simply love it when everything else feels too much. 
Why Yoga Nidra? 
It helps the body and mind to deeply relax and heal 

Offers deep rest through guided relaxation 

Helps you to sleep (which can be hard when feeling overwhelmed) 

Helps to recentre and come back to ourselves. 
TRY: Yoga Nidra with Dan Peppiatt 
Inspired and Creative
MFML recommendation: A creative Vinyasa Class or Mindful Movement and Play 
Sometimes there are days when I feel more tuned in and inspired; on these days I have more creative energy flowing and I have motivation, ideas and inspiration. It is great to move and play with these feelings, so our movement has the chance to be creative and fluid too. These are the days for trying something new and stepping out the box. It is great to give the body an opportunity to play, express itself and move with curiosity. 
Why Vinaysa Flow and playful movement? 
Our creative energy is located in the sacral chakra, the chakra associated with the water element, and sensuality. For this reason it is perfect to move with fluidity and flow like water when you are feeling creative and inspired. 
TRY: The Positive Psychology Series: Creativity with Mercedes Seiff
and Playful Flow: Somatic Movement with Vanessa Michielon 
Movement for Modern Life is offering a FREE 14 day trial and 30% off all subscriptions to new subscribers!
Simply sign up here
. Cancel anytime.