"It's like a wonderbra for the mind!" Triona McCarthy
salute roll-on
Happiness Happens
🌿 Happifying and zingy Bergamot, Grapefruit, Rosemary, Ylang ylang
🌿 This luxurious handmade blend of essential oils will uplift, energize, focus, sharpen the mind and make you smile
🌿 It's rare to find something that boosts mood, energy, and immune system. Feel for yourself how this does all three
🌿 We make in very small batches - grab it while you can!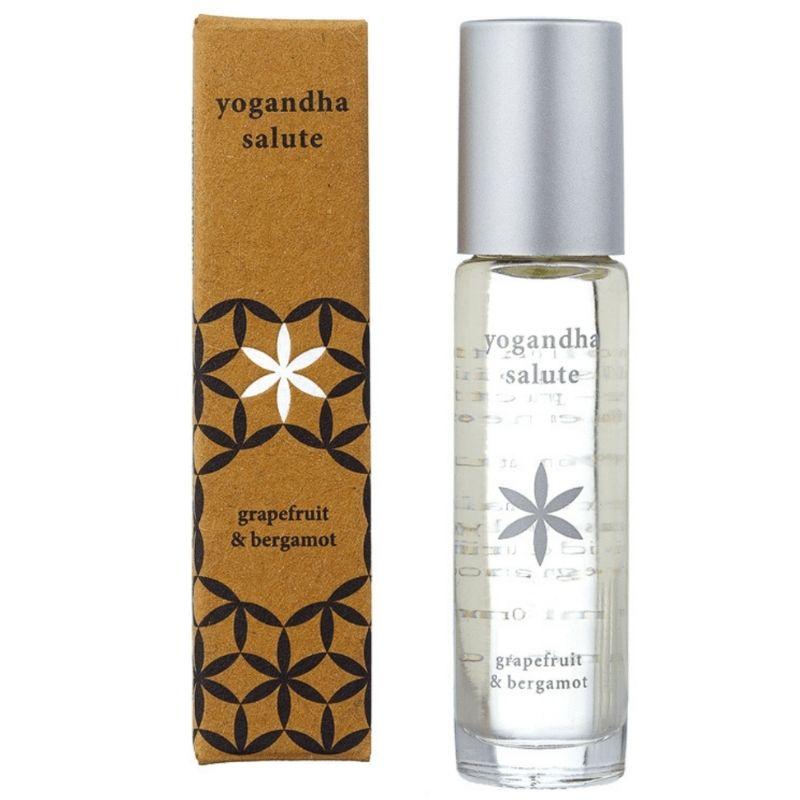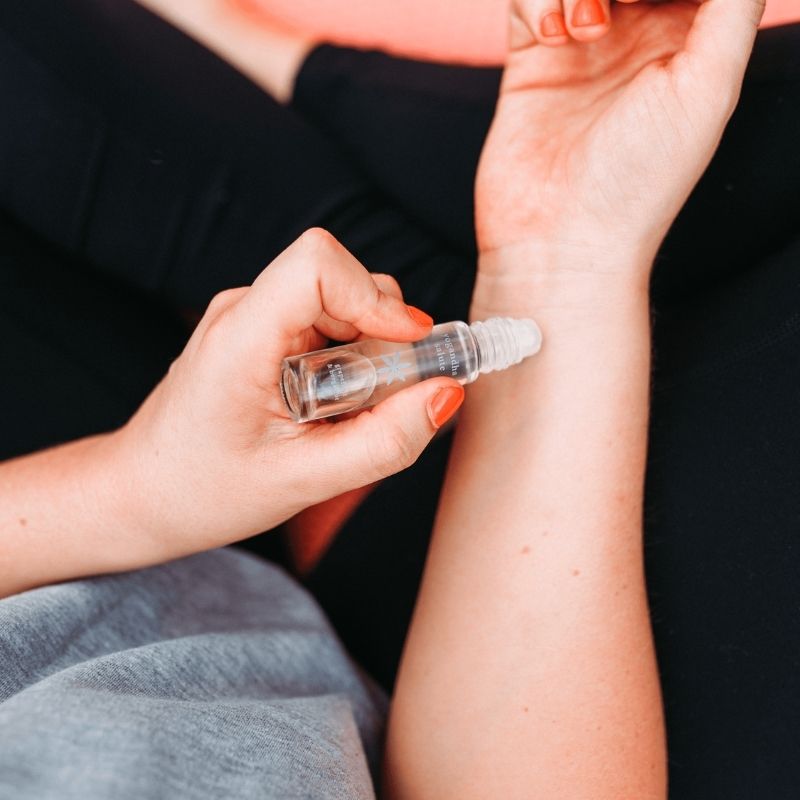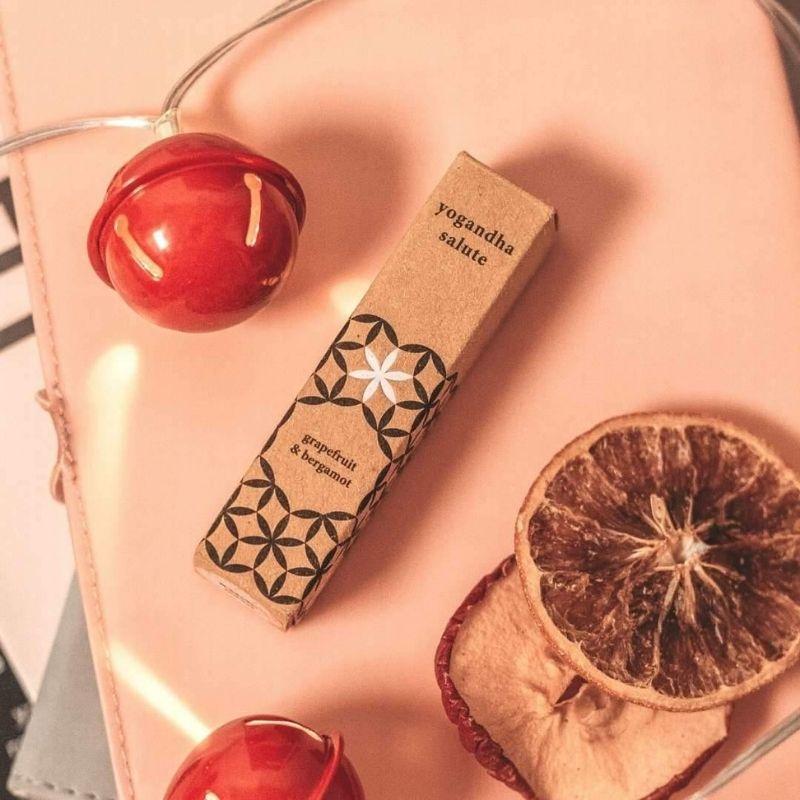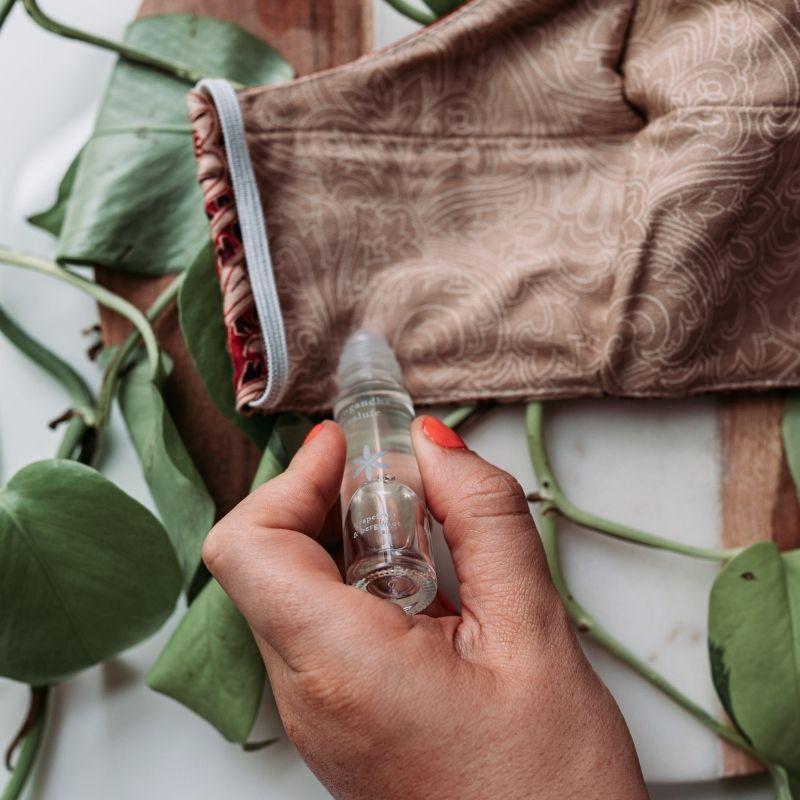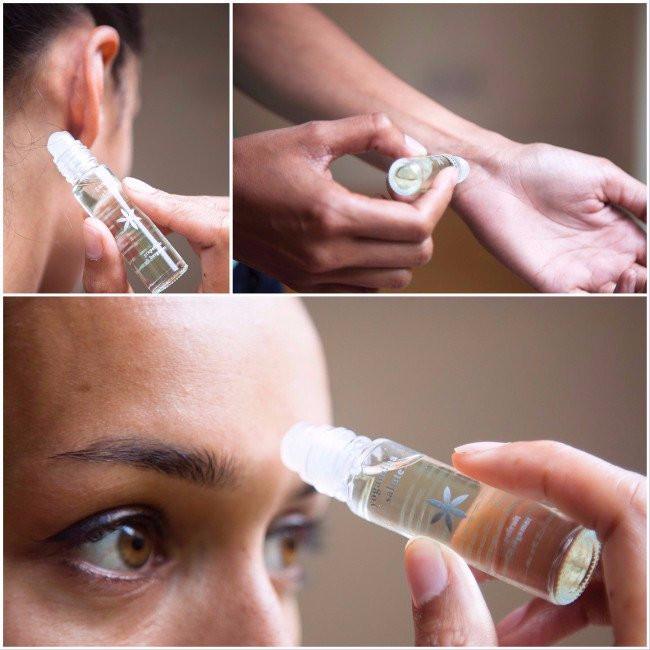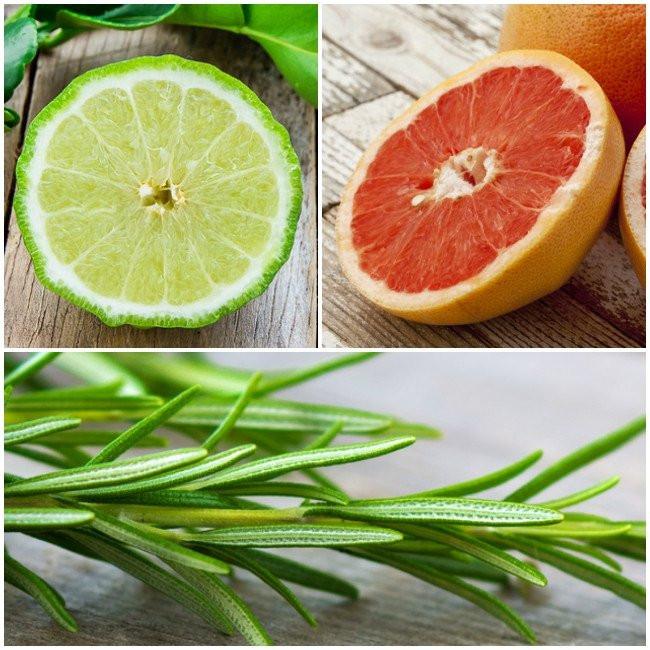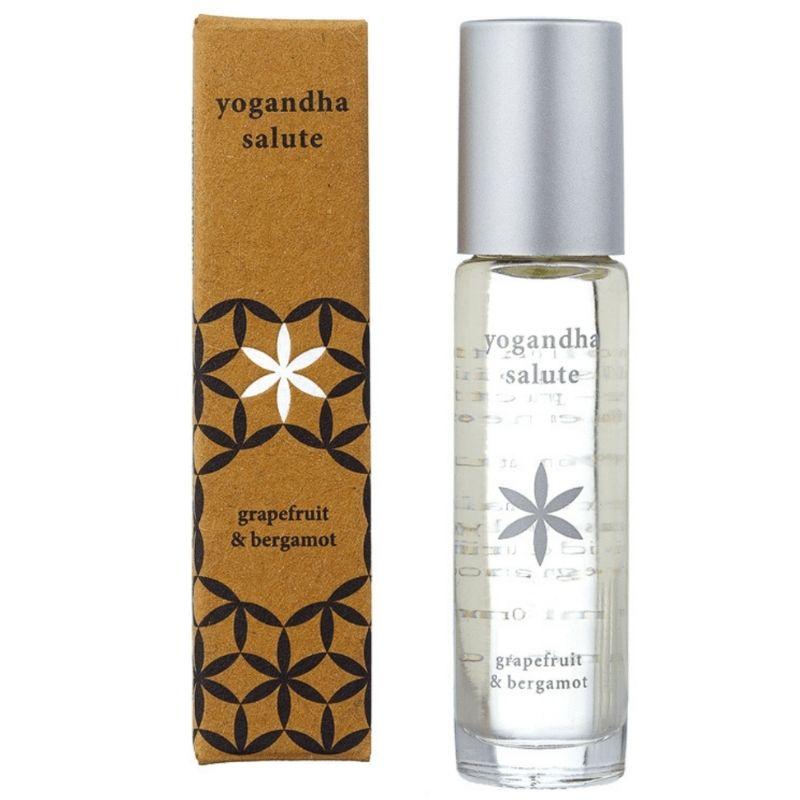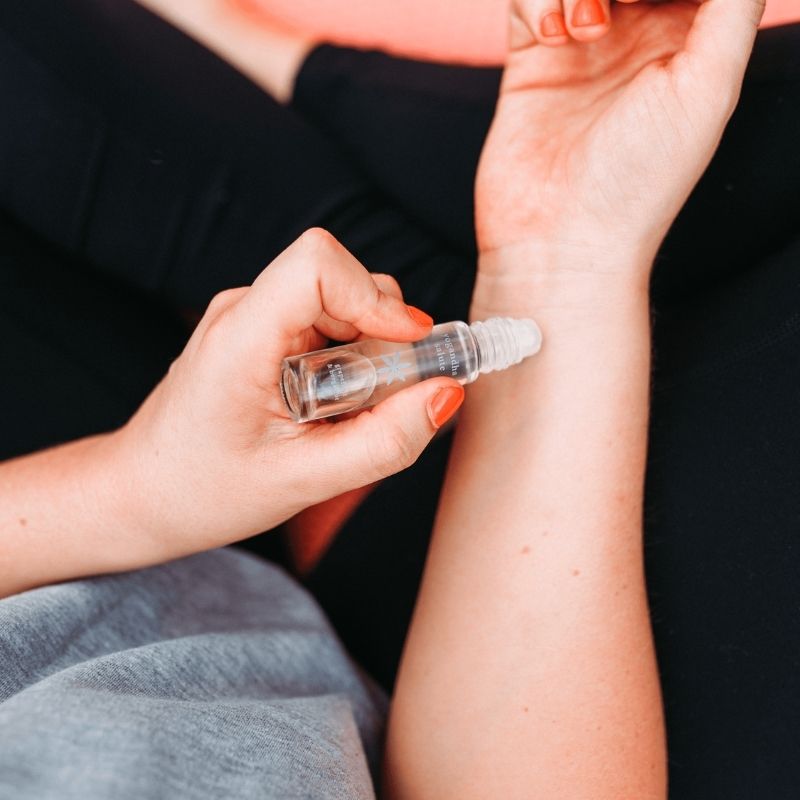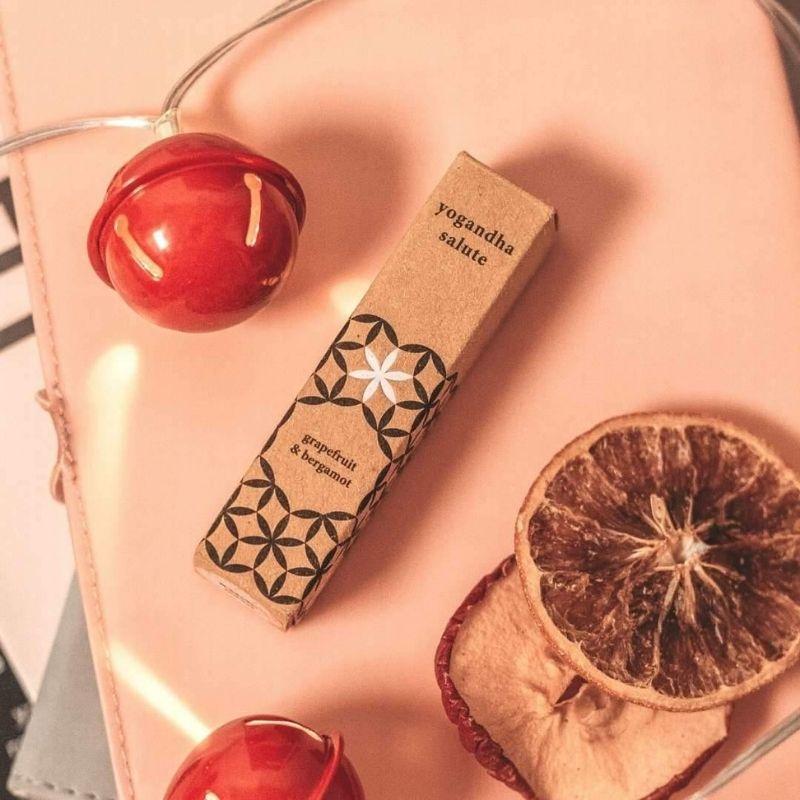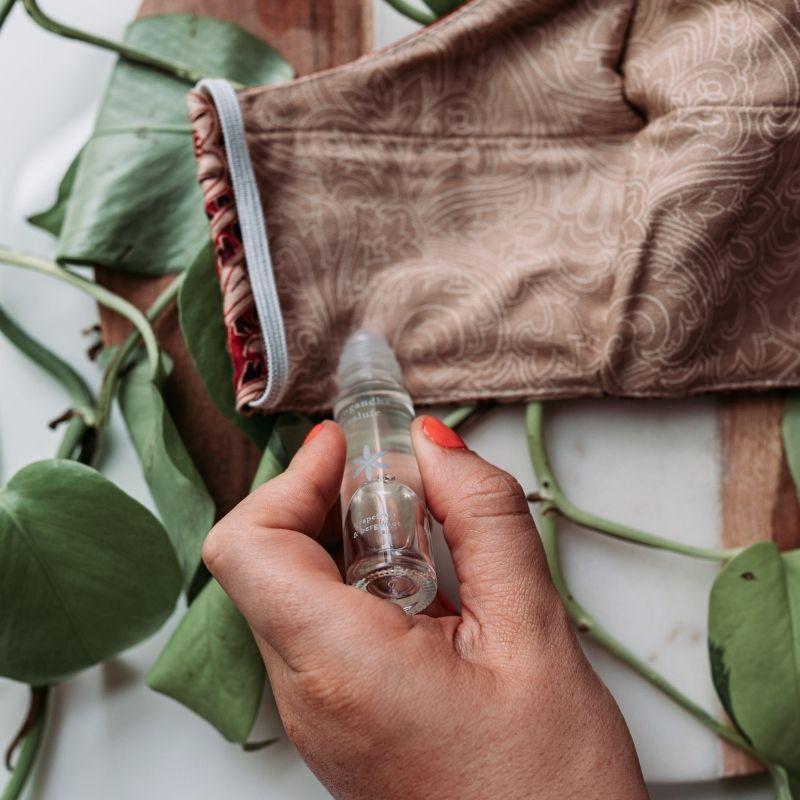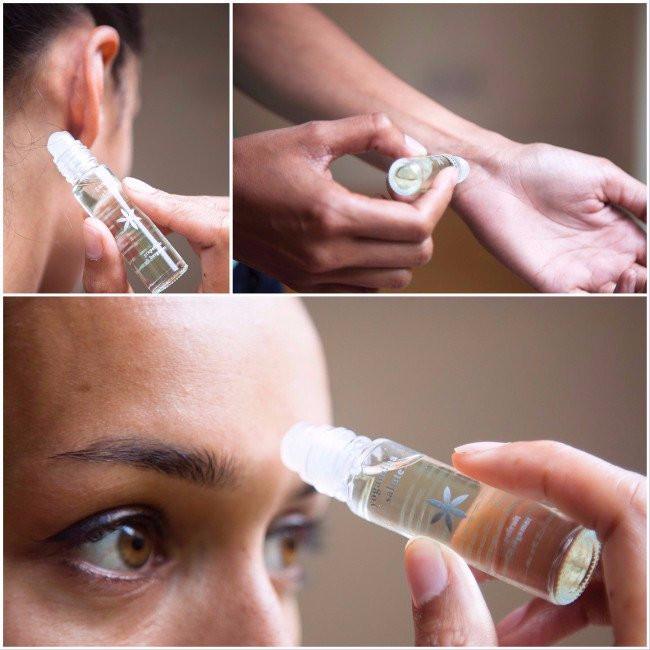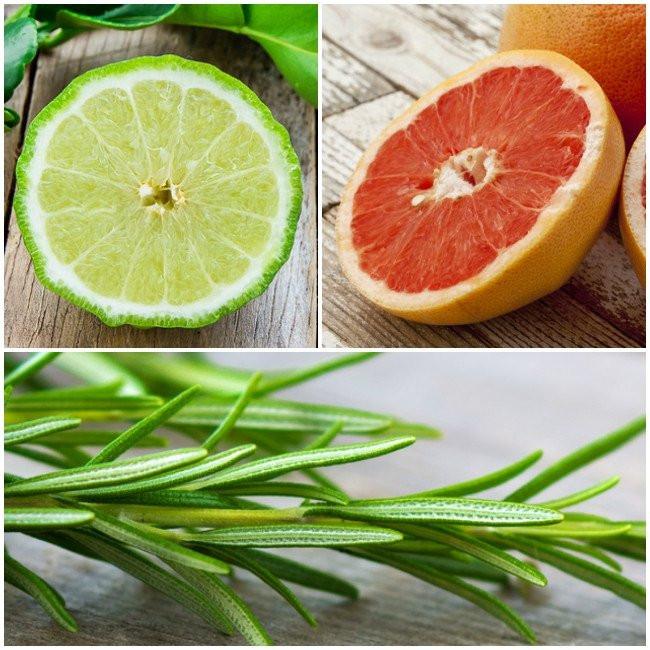 "It's like a wonderbra for the mind!" Triona McCarthy
salute roll-on
Happiness Happens
🌿 Happifying and zingy Bergamot, Grapefruit, Rosemary, Ylang ylang
🌿 This luxurious handmade blend of essential oils will uplift, energize, focus, sharpen the mind and make you smile
🌿 It's rare to find something that boosts mood, energy, and immune system. Feel for yourself how this does all three
🌿 We make in very small batches - grab it while you can!
Product Description
about
This uplifting essential oil roll-on brings calm, joy, focus, clarity and renewed energy.
This product was featured on National television where it was called 'A wonderbra for the mind' 
"These oils have been genuinely amazing to use. Yogandha Salute is my favourite. I carry this around with me all day. When I feel a slump coming on, I just roll on to some pulse points – my wrists, inner elbows and my neck. I feel refreshed and it's a lot better than all the coffee I'd been drinking".  Dee Doherty, La Belle Mama, blogger
how to use
Apply directly to pulse points and temple as mood-managing mindful fragrance
To get you going in the morning, even after broken sleep
Get clarity in your day - on actions, plans, goals and for manifesting
To better focus at work or when tired
To study: Roman students wore rosemary garlands when studying - to better concentrate, absorb and remember. (a university in Warwick has proven it works too!)
Bergamot is known to be one of the most effective anti-anxiety essential oils
To ease Jet-lag - grapefruit is balancing to the circadian rhythm
Protection of any kind (Rosemary has been used for centuries for protection - for mind, body, spirit)
chakra: This oil has an affinity with the manipura (solar plexus) chakra
This oil comes with the mantra: pranam dhehi (may the upward moving energy be nourished)
"Bought this for my daughter who tends to be overly anxious & have noticed an overall improvement in her mood" Eileen O. Ireland
🎥 'how-to-use' video with every purchase
external use only. not suitable for pregnancy. best use within 6 months. 10mls/.34oz
ingredients
100% natural vegan: Coconut oil (capric triglyceride), Grapefruit oil (citrus grandis peel), Cedarwood oil (cedrus atlantica bark), Bergamot oil (citrus aurantium bergamia fruit), Patchouli oil (pogostemon cablin), Rosemary oil (rosmarinus officinalis leaf)**, Ravensara aromatica leaf oil, Ylang Ylang (cananga odorata oil)**, Vitamin E (tocopherol), limonene*, linalool*, citral*, geraniol*, benzyl alcohol*, benzyl salicylate*, benzyl benzoate*, farnesol*, eugenol*, isoeugenol* And Absolutely Nothing Else!
* Naturally occurring within essential oils. ** Organic ingredients
It is lovely. Not too strong, not too weak. I find it invigorating! C.A.
delivery & returns
🚛 We PAY shipping globally on all orders over 79 £$€
If not availing of free shipping - it's a flat rate of £5/€5/$6 (will show on checkout)
🔓 108-day return: We want everything about your yogandha experience to be relaxing. That's why we offer a no-quibble 108-day return guarantee
🌏 Ships from greenest Ireland within 2-3 days
"Gorgeous product, speedy delivery". Stephanie H. UK
from sinead
As a yoga and mindfulness teacher, I spent 3 years meditatively blending to create this oil to bring easy calming rituals into your day.
Use daily, breathe deeply, 🙏🏽 Sinéad
Easy to use, 100% contentment guarantee, feel for yourself
Wonderful product, great company
I've placed two orders with yogandha, and I am very happy with the quality of the product and the service. I love the texture and the smell of the oils and I really like how easily they get absorbed by the skin (no oily residue, no clogged skin pores, no stains on the clothing). My skin feels moisturised and nourished but also very light with a lovely scent. Also, I really appreciate Sinead's newsletters and her wonderful insights. Thank you for this great product. :-)
Magda S.
Gorgeous products + great customer service
I got a gift of a yogandha oil a while back and adored it. I wanted to purchase a gift for a mentor who helped my yoga training journey and it was a no brainer to order this. The purchase process was smooth, and it helps that I'm supporting and Irish company. Will absolutely order again.
Orla K.
I've been using the oils for a few years now. I love them all and use daily, choosing one depending on what I feel in the morning or evening when I shower. My skin feels lovely and soft and the scents are just divine. I value this time with myself, and see it as my treat to myself at the end of the day. At night I've found using the relax along with the body scan meditation a pure joy and I drift off to a blissful sleep...my children also indulge in the oil, the older teenagers using the muscle soothe and detox and my youngest son loves the relax before bed...
Fiona M.