"A really luxurious experience. Applying one is a ritual" - Deirdre O'S
All three yogandha body oils
€99.00
€79.85
You Save:

€19.15 EUR

(19.34%)
Deep Self-Care
🌿 Warming ginger to heal, zesty lemongrass to cleanse, grounding lavender and vetiver to relax
🌿 With this indulgent set - you can have all three on hand
🌿 Feel how deeply well you can feel by using these oils every day
🌿 We make in very small batches - get them while you can!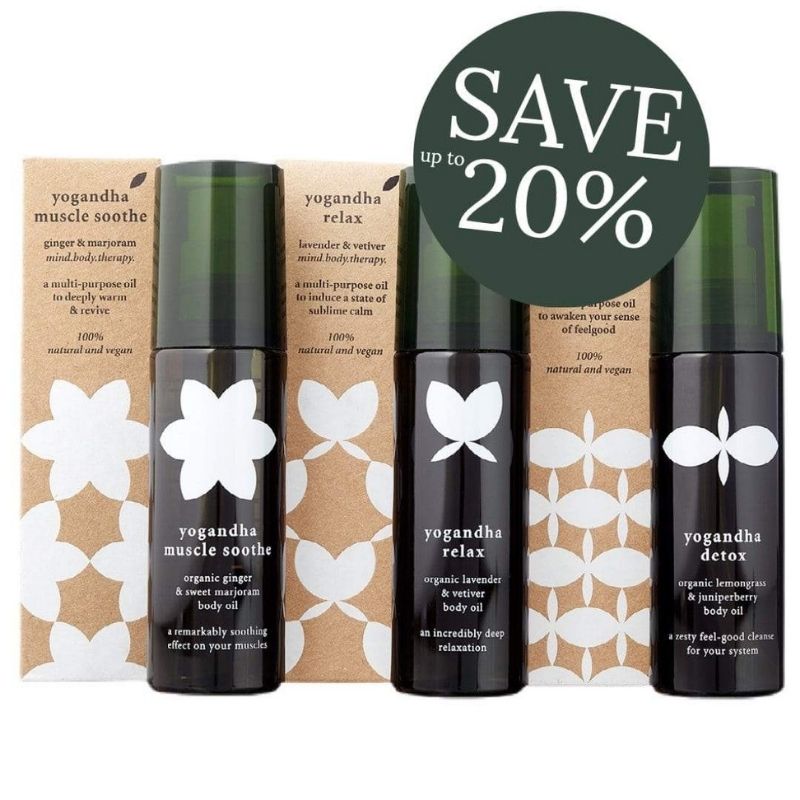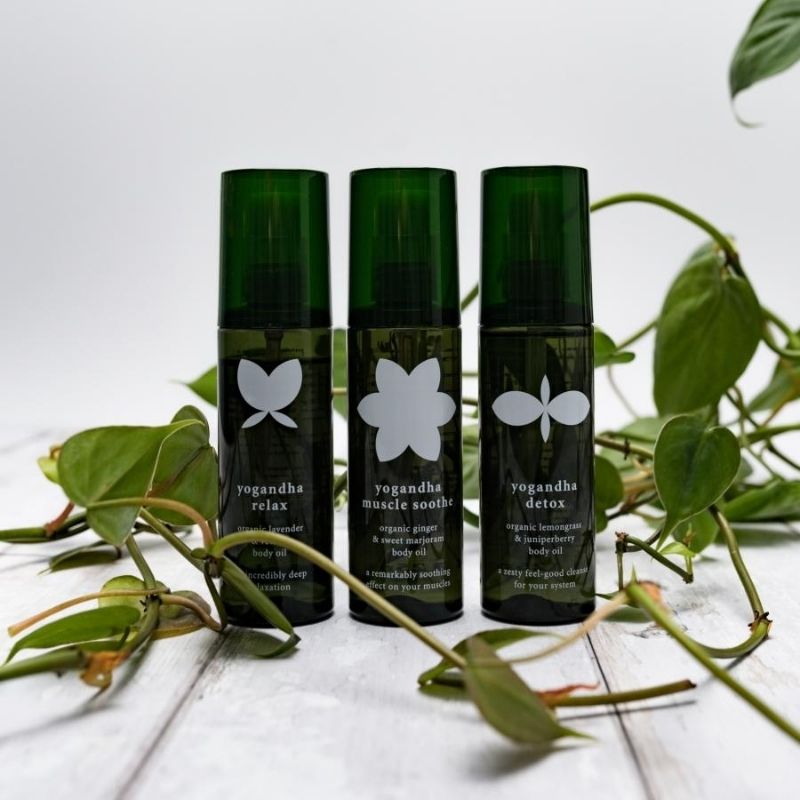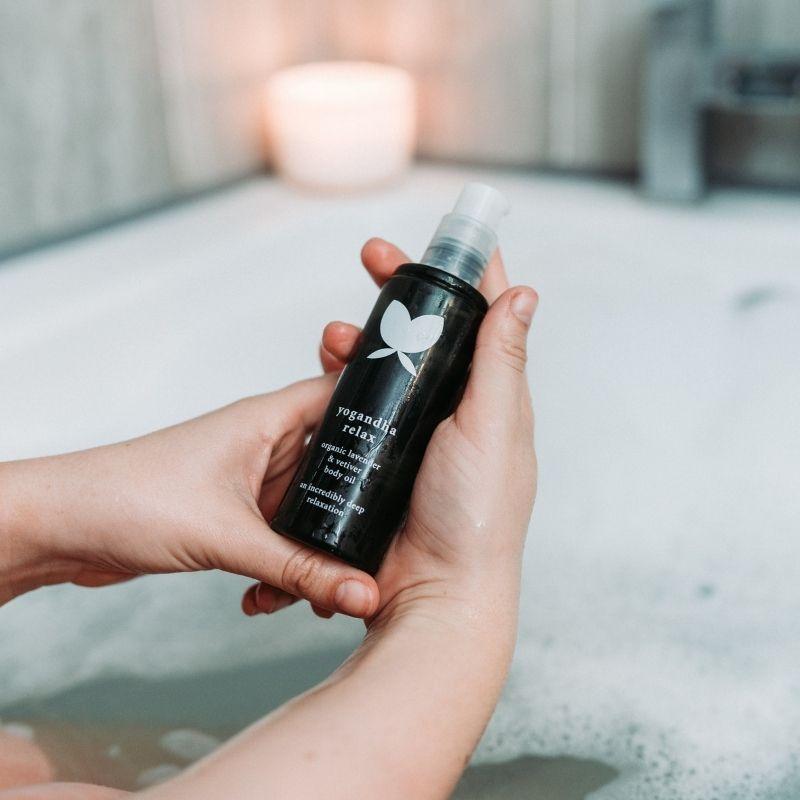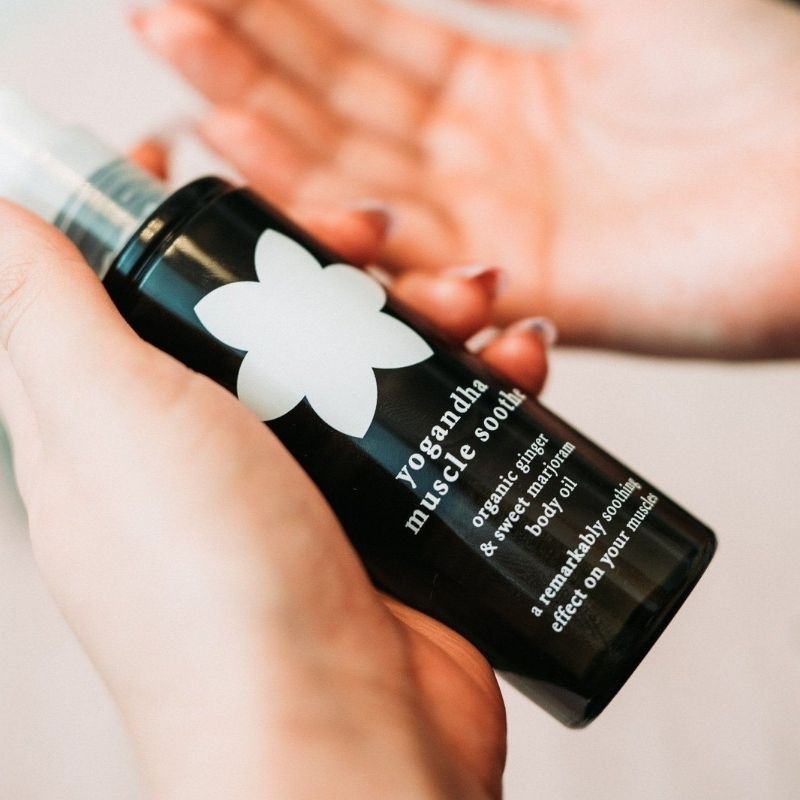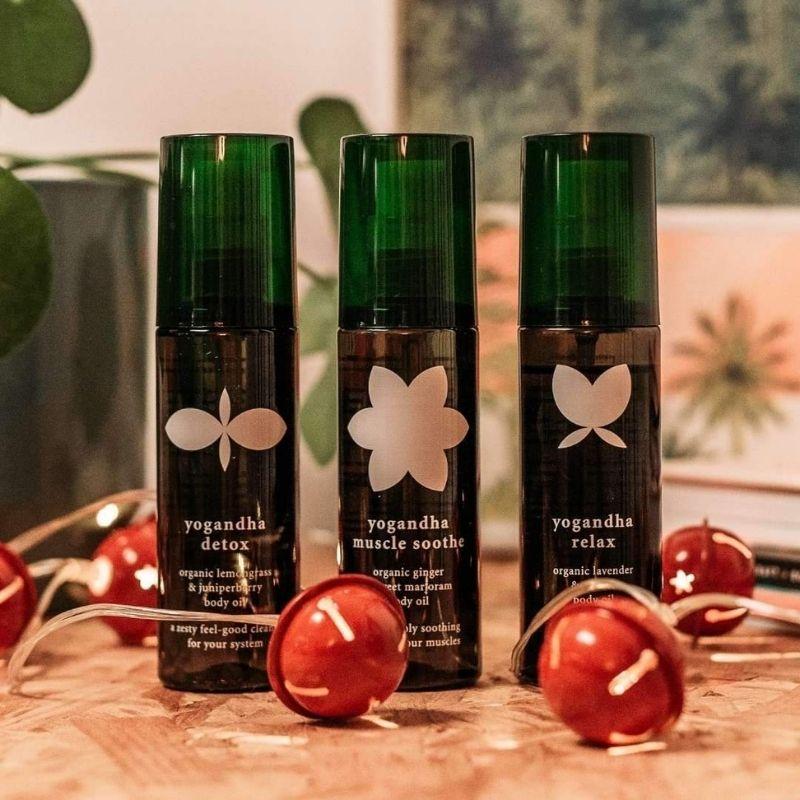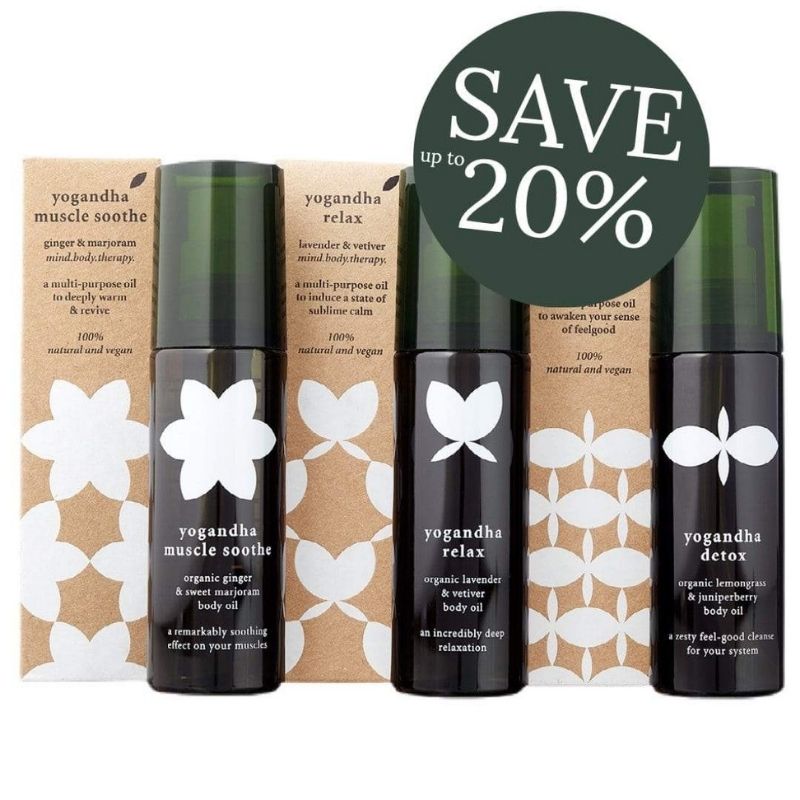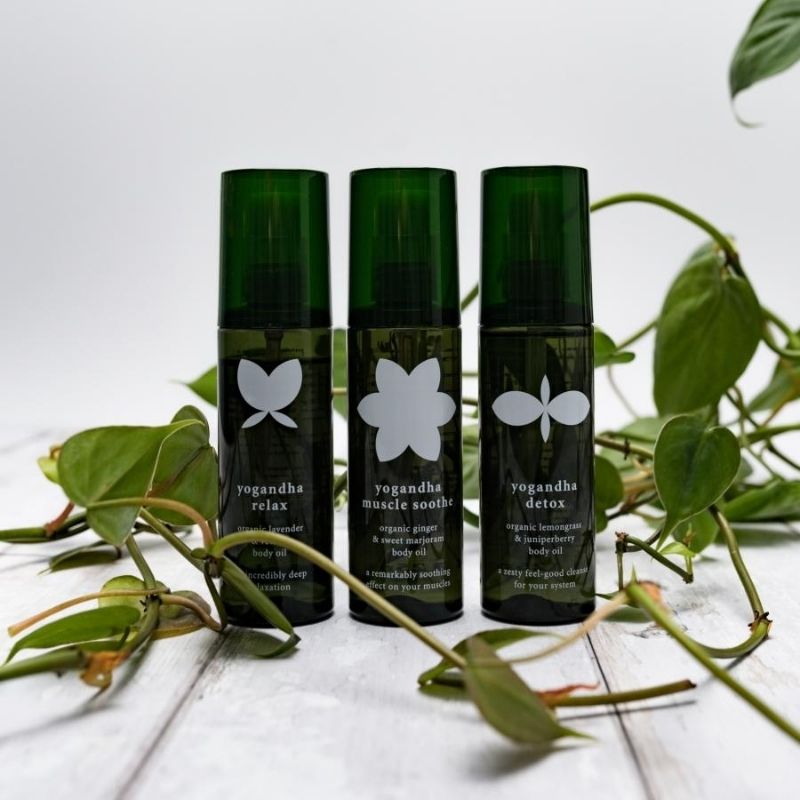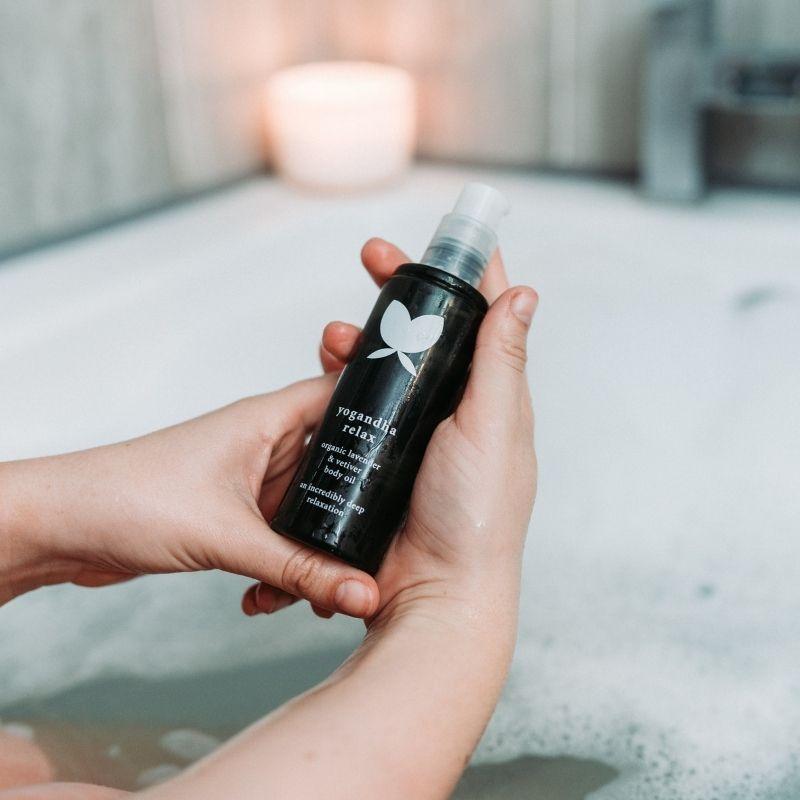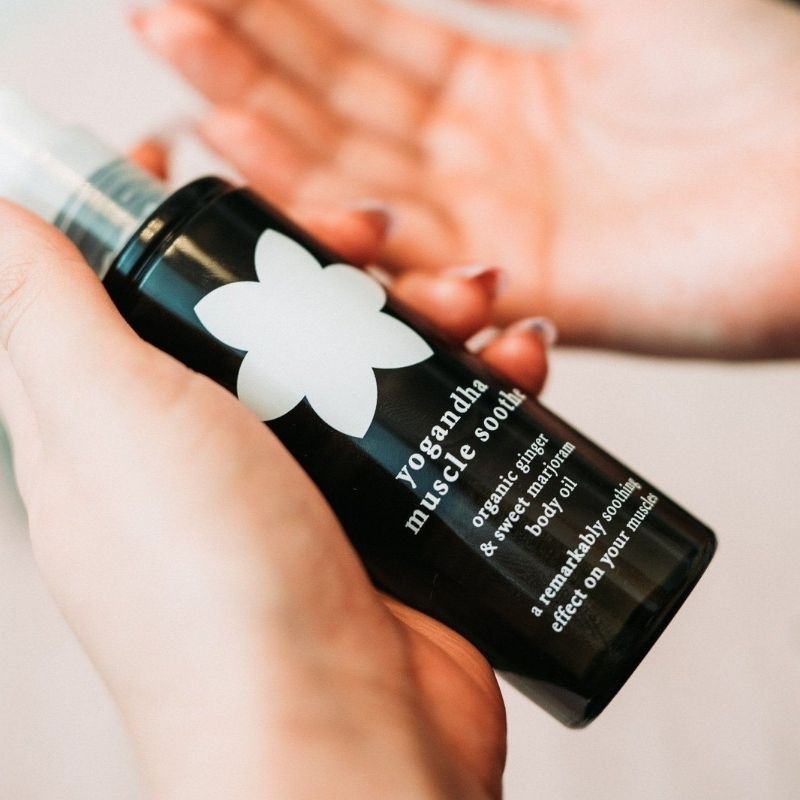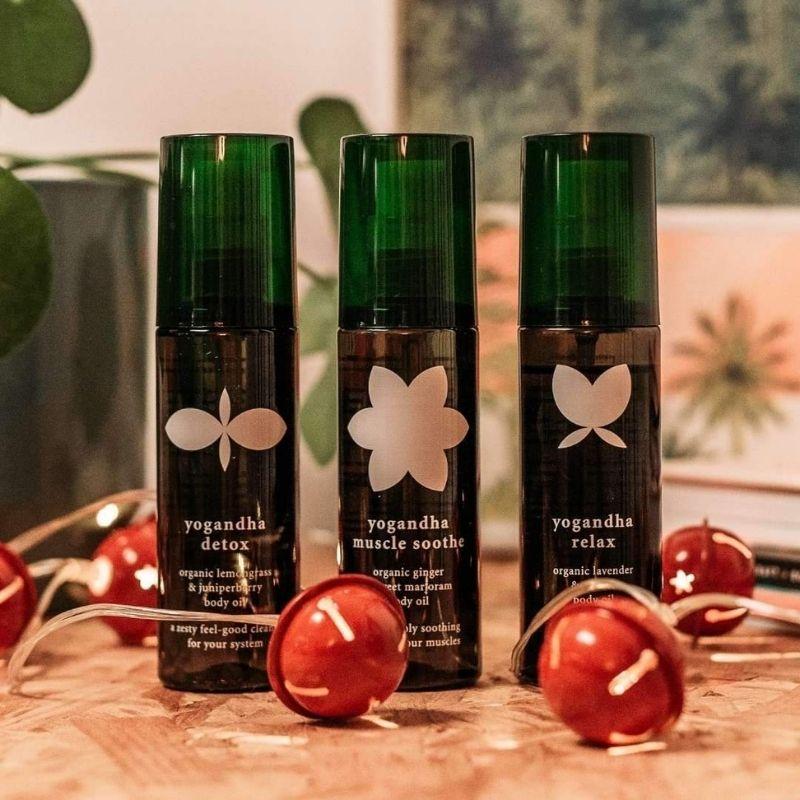 "A really luxurious experience. Applying one is a ritual" - Deirdre O'S
All three yogandha body oils
€99.00
€79.85
You Save:

€19.15 EUR

(19.34%)
Deep Self-Care
🌿 Warming ginger to heal, zesty lemongrass to cleanse, grounding lavender and vetiver to relax
🌿 With this indulgent set - you can have all three on hand
🌿 Feel how deeply well you can feel by using these oils every day
🌿 We make in very small batches - get them while you can!
Product Description
about
Our full set of multi-award winning body oils come in a trio - in a beautiful organza gift-bag.
This will allow you to feel the full range of benefits of our vibrant herbal elixirs. It's great to have all three in the shower and ask your body what it needs today.
"I love using them after I've showered or bathed, especially before bed. I adore the smell and using the products makes me feel 100% better and I trust it more as it contains natural ingredients." Laurie Elle, Blogger
"So divine, and just enough variety to soothe me in any situation. I feel so lush and luxurious caressing myself with these oils. The quality is exceptional, so happy I bought them. Thank you" Laura L.
how to use
Apply these essential oil body oil blends directly on all skin types as multi-purpose daily restorative body oils
Can simply use as daily body oils - with so many benefits!
All our oils can be used in the bath or shower to protect your skin - your skin will thank you!
apply muscle soothe all over before and after exercise of any kind, for any kind of pain and discomfort - back pain, PMT and cramps. Also works to for clear chests, tummy ache, after football or ballet.
apply detox all over every morning, if you are partying – apply before going out and again the next morning, your liver will thank you. A great environmental detoxifier – so do use every day.
apply relax for immediate deep relaxation. high frankincense content provides incredible skin-rejuvenating properties making this an anti-aging face oil.
Turns a regular shower/bath into a deeply hypnotic self-indulgent ritual
Gentle enough to massage on bodies of any age - suitable for kids and great for bonding too
All essential oils boost the immune system - so our oils are deep wellness in a bottle
Super-nourishing for the skin.
🎥 'how-to-use' video with every purchase
external use only. not suitable for pregnancy. best use within 6 months. 125mls/4.23oz
what's inside
muscle soothe body oil - warm and foresty tones of ginger and marjoram essential oils have a remarkably soothing effect on overworked muscles while maintaining tone. cedarwood relieves and revives tired limbs. Petitgrain aids the nervous systems and brings a state of equilibrium mentally and physically. More about this soothing essential oil body oil
detox body oil - refreshing lemongrass and cleansing juniper berry essential oils will purify and detox the body and boost lymphatic drainage. these restorative qualities are invaluable after any form of excess. More about this detoxing essential oil body oil
relax body oil- deep and rich lavender and vetiver essential oils transport to a place of deep relaxation and calm. will help restful and deep sleep. More about this relaxing essential oil body oil
"so versatile to use. They are great quality and the blend gives such a nice fragrance. they make my skin glow. Love them!" Mieke, Belgium.
delivery & returns
🚛 We PAY shipping globally on all orders over 79 £$€
If not availing of free shipping, you pay a flat rate of £5/€5/$6 (this will show on checkout)
🔓 108-day return: We want everything about your yogandha experience to be relaxing, that's why we offer a no-quibble 108-day return guarantee
🌏 Ships from greenest Ireland within 2-3 days
"Excellent Products. Blends in really well and keeps your skin moist throughout the day." David R.
from sinead
As a yoga and mindfulness teacher, I spent 3 years meditatively blending to create this oil to bring easy calming rituals into your day.
Use daily, breathe deeply, 🙏🏽 Sinéad
Easy to use, 100% contentment guarantee, feel for yourself
Wonderful product, great company
I've placed two orders with yogandha, and I am very happy with the quality of the product and the service. I love the texture and the smell of the oils and I really like how easily they get absorbed by the skin (no oily residue, no clogged skin pores, no stains on the clothing). My skin feels moisturised and nourished but also very light with a lovely scent. Also, I really appreciate Sinead's newsletters and her wonderful insights. Thank you for this great product. :-)
Magda S.
Gorgeous products + great customer service
I got a gift of a yogandha oil a while back and adored it. I wanted to purchase a gift for a mentor who helped my yoga training journey and it was a no brainer to order this. The purchase process was smooth, and it helps that I'm supporting and Irish company. Will absolutely order again.
Orla K.
I've been using the oils for a few years now. I love them all and use daily, choosing one depending on what I feel in the morning or evening when I shower. My skin feels lovely and soft and the scents are just divine. I value this time with myself, and see it as my treat to myself at the end of the day. At night I've found using the relax along with the body scan meditation a pure joy and I drift off to a blissful sleep...my children also indulge in the oil, the older teenagers using the muscle soothe and detox and my youngest son loves the relax before bed...
Fiona M.